Alfa Pro food truck – the lightest wood fired oven for your moving business
The perfect professional pizza oven to run a successful food truck or pizza trailer with an 900°F fire-breathing dragon.
Available with gas wood or dual fuel, all Alfa Pro models are suitable for your food moving business.
They reach woking temperature in 30 minutes and bake a neapolitan pizza perfectly in just 90 seconds.
The oven is light and robust (2.5 mm thick) and at the same time has a good resistance to the stresses of the road and doesn't affect the truck greatly reducing power consumption. Alfa Pro commercial ovens are the ideal solution for cooking in the Italian style pizza in your food truck.
Small food truck pizza ovens
Alfa Pro produces the best commercial wood and gas fired oven for food truck or pizza trailer.They are made for those who want an innovative and fast cooking appliance with lower operating costs. These commercial ovens takes just 30 minutes to reach 850°F and bake up to 8 yummy pizzas at a time in 90 seconds. Alfa Pro has the most compact professional pizza ovens on the market. Their smaller size and light weight (363 lbs) make them perfect for transporting and avoiding extra fuel costs.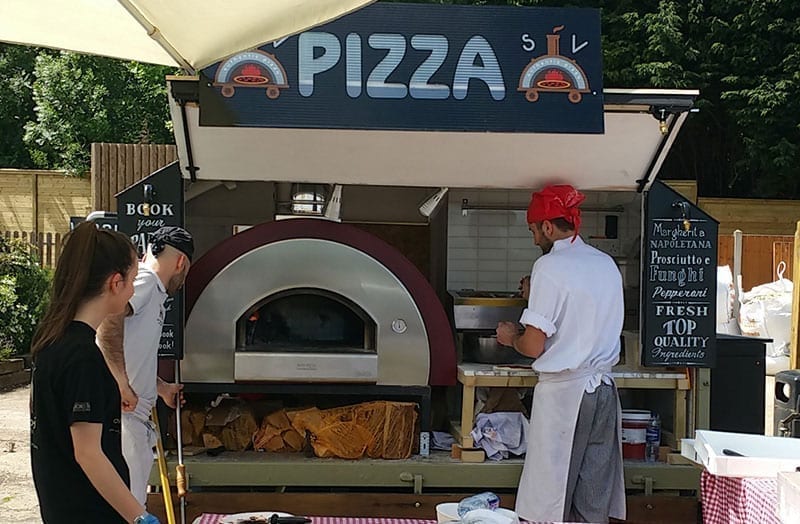 Large food truck pizza ovens
Alfa Pro sales commercial wood and gas fired oven for food truck and pizza trailer for greater productivity. These commercial pizza ovens bake up to 150 pizzas per hour and are the best solution for those who want to satisfy many customers with a mobile restaurant. Powered with gas, wood or dual fuel version These commercial pizza oven are available in table top variant or on a base with wheels. The stainless steel dome ensures fast heating time and a lower consumption of fuels.